This blog covers Step 1 Dampness and is part 1 in a series of 20
Did you know…. No defect will occur in a building without the effects of moisture
Moisture in buildings is the most common problem to affect your home. It is important to understand that if dampness is not taken care of it can cause major damage to your property.

When damp appears it sparks off the unknown fear, where has it come from? Why is it here? What will happen next? How bad can it get? Will this affect my health and my family? What should I do next?
Moisture in buildings can be unhealthy for you and costly to remedy. Knowing why the damp is present and what to do next will reduce the worry and long term expense. Most dampness problems can be cured or minimised by simple remedial work but a few will need substantial outlays. In many instances, dampness in your home may not be present all year round. Depending on the source they may only become evident after a change in weather conditions, usually during the colder or wetter months or after periods of heavy or extreme rainfall. Heavy rain is becoming very common due to changing weather patterns we now experience in the UK. Moisture in buildings creates damp walls which are cold walls. This affects the insulation qualities of your home; it will be like living in a cold box.
Internal damp patches are caused by a combination of external defects such as defective roofs or flashings, leaky or blocked gutters and downpipes, small fissures or cracks in the external renders or defective pointing to the brickwork. These small defects can be even more serious when there are strong winds mixed with driving rain.
Moisture In Buildings as Condensation
Condensation is a common form of moisture in buildings and one that many people recognise. Condensation forms when warm moist air comes into contact with a cold internal wall or surface. Any building defects or plumbing problems that allow water or moisture into the property will lead to deterioration of the building fabric which will be expensive.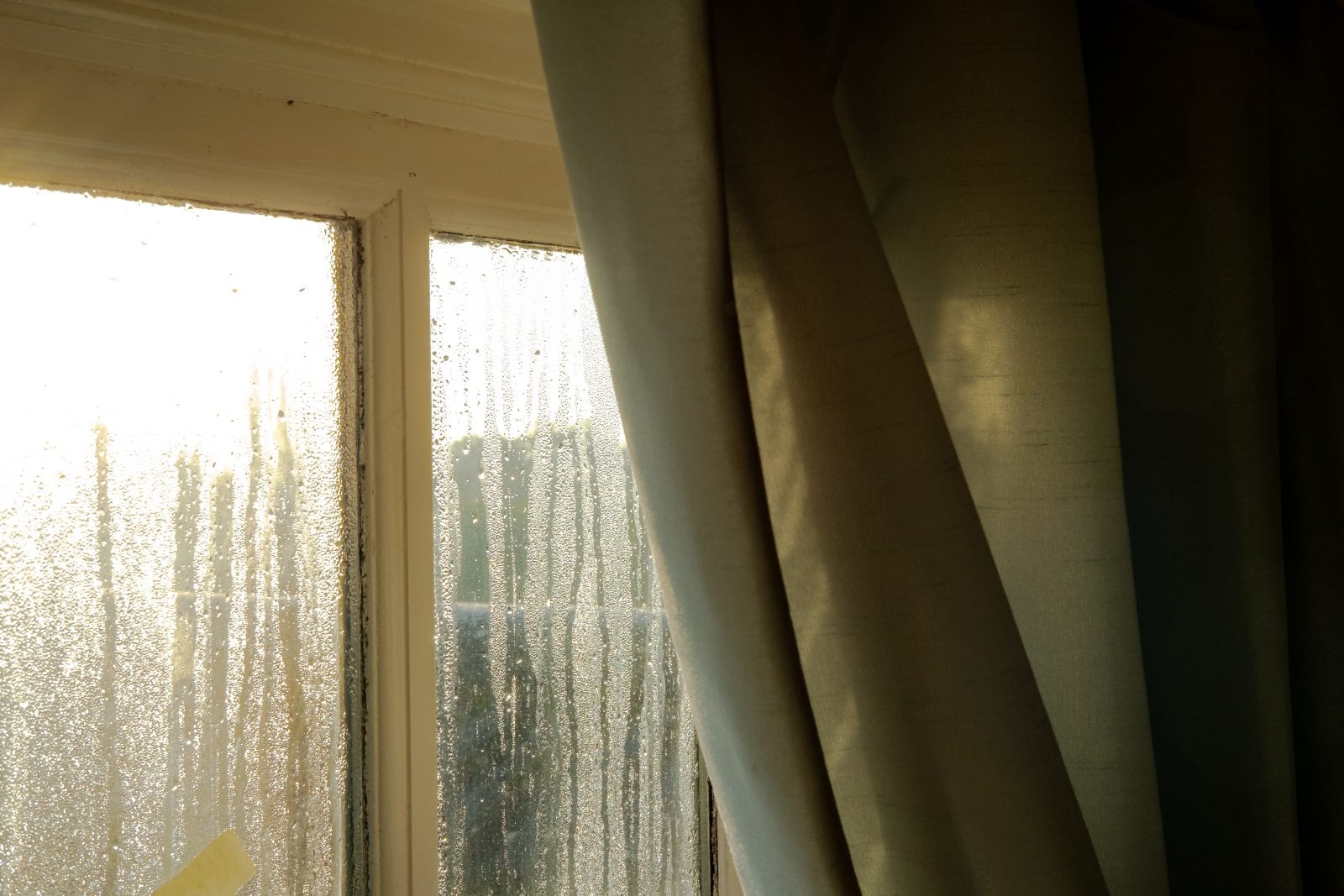 Damp and condensation in the home can lead to mould, which is extremely unhealthy for us, particularly to the very young or elderly. Inhaling mould fragments or spores can inflame your airways, causing nasal congestion, wheezing, chest tightness, coughing and throat irritation.
This Blog is part of our
Diagnosing the causes of dampness, it's effects and remedial repair

Guide – Click to get the full guide:
Prolonged exposure to high levels of indoor dampness can even reduce your lung function and can lead to causing chronic health problems such as asthma. If your damp-proof course is defective or if it is being bridged (compromised), one of the first ways in which this will manifest itself is in 'tide marks' or brown patches at the bottom of walls. You need to pinpoint the source of the problem, have the necessary remedial building works carried out and sometimes use a dehumidifier to help dry out the room affected. Remember; wet walls are cold walls and therefore your heating bills will go up.
If your guttering is damaged and you have rainwater streaming down the side of your property, it will only be a matter of time before the water finds its way into your home. The guttering should be regularly checked for blockages or other problems. We recommend the 10 minutes Tiffin Test! (You can find out more about this in your eBook guide)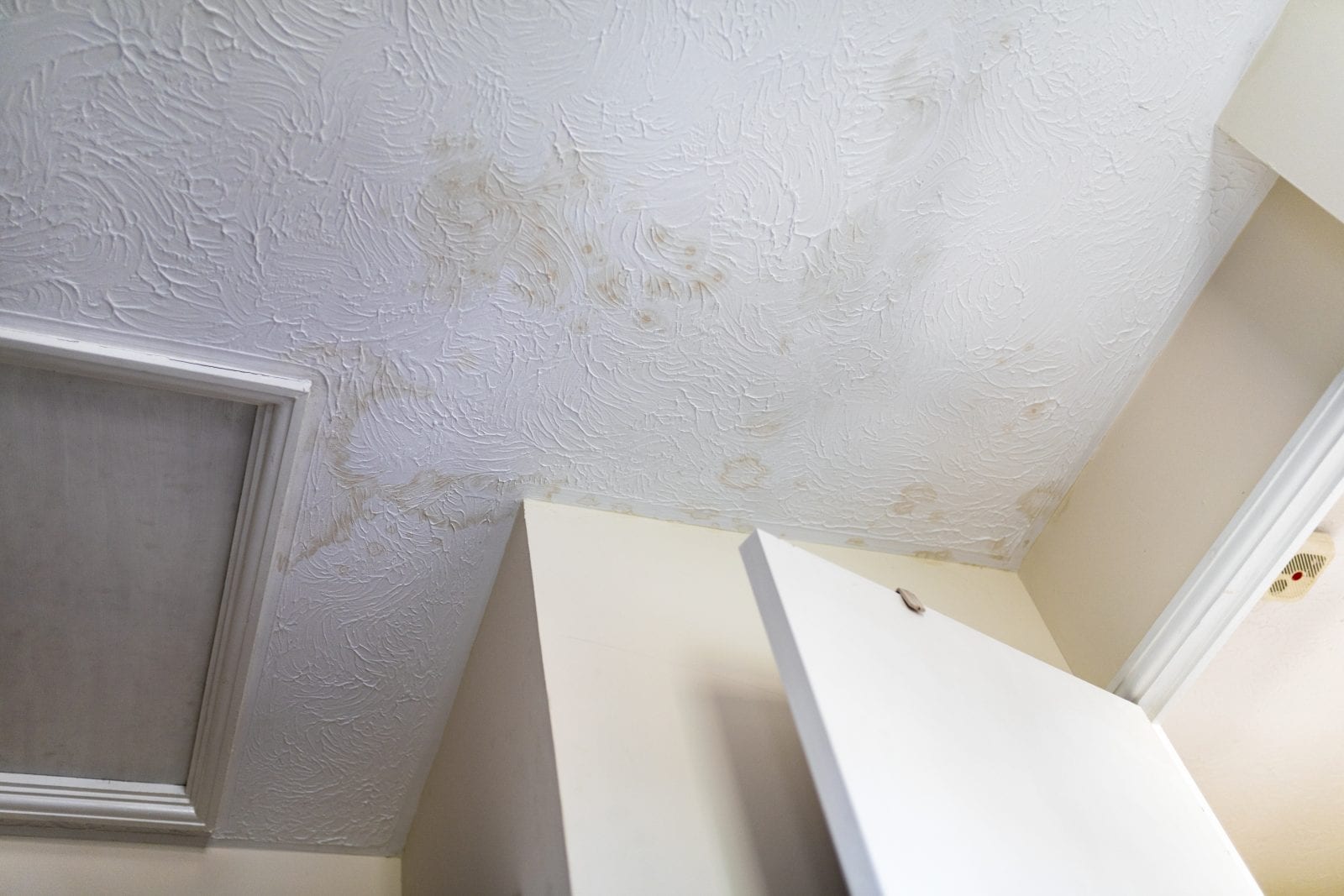 Sometimes it may not be obvious where the damp is coming from. A leaking water pipe that has been leaking for sometime before the evidence becomes visible, this can cause a whole host of issues and major unseen damage. This is common amongst old cast iron pipes that may have rusted over time.
Rising damp is not as common as it once was but it can still occur if groundwater has a passage to move up through the walls or the floor structure. It's natural for walls and floors to allow water to move through the structure via capillary action but it's usually prevented from causing damage by a barrier called a damp-proof course or damp-proof membrane.
A damp-proof course is a waterproof horizontal strip, usually made of plastic, bitumen, felt, lead or slate built into the wall at a height of at least 15cm above ground level. A damp-proof membrane is a sheet of material that's impervious to water, which is laid underneath the floor structure. This membrane should be connected (lapping) to the damp-proof course so that the house is effectively sealed and protected from groundwater.
Newer houses will have both a damp-proof course and a damp-proof membrane, as they are now a requirement of building regulations (Part C for England and Wales). Older buildings (particularly those built before regulations came into force in 1875) may not, or they may have been damaged over time by poor alterations, workmanship or structural failure. If this is the case, your walls or floor may suffer from either penetrating or rising damp. Rising damp can also happen when there's a lack of effective drainage and the level of the ground outside your home is higher than your damp-proof course, allowing water to get above it (known as bridging).
We recommend the
10 minute Tiffin Test
!
Damp problems can be a very serious concern in any home, whether you are a home-owner or a tenant, living in any style of property whatever its age might be. At best, it can be a nuisance and make a room feel cold, unwelcoming and unhealthy, and at worst it can indicate structural or weatherproofing issues.
If you have damp and mould in your home you're more likely to have respiratory problems, infections, allergies or asthma. Damp and mould can also affect the immune system and lead to chronic illness. Babies, young children, the elderly or those who already have asthma or a weakened immune system will be at higher risk from damp and mould.
Moulds produce allergens, irritants and sometimes toxic substances. Inhaling or touching mould spores may cause an allergic reaction, such as sneezing, a runny nose, red eyes and skin rash. These moulds need to be taken very seriously and some of them can be releasing dangerous toxins into the body and can also cause asthma attacks. The NHS and Webmd talk about this on their websites.
It is believed that Mycotoxins can also kill neurons in the brain, which directly affects our mental capacity and can alter our psychological makeup. Some of the neurological symptoms of the ingestion of mycotoxins include confusion, dizziness, a 'foggy' brain, hallucinations, seizures and trembling. There is no medical proof that moulds are responsible for illnesses like cancer however from the many articles found on the internet many professionals believe it can contribute to chronic illnesses.
Infection from damp and mould is very serious so it is imperative that if you notice any of the above symptoms you seek medical attention. If you start getting these symptoms your doctor must be made aware of the conditions that you are being exposed to and living in so that correct diagnosis and treatment can be given.
This Blog is part of our
Diagnosing the causes of dampness, it's effects and remedial repair

Guide – Click to get the full guide:
If you've got moisture in your home you really must act on it straight away, don't let a seemingly small matter turn into a large problematic, expensive problem. At the early signs of damp, remedial work will be straightforward and less expensive, but as time goes on this will change. It is important to get damp assessed properly by suitable experts so the correct repair work can be carried out and correct budgets put in place.
It goes without saying that damp in the home is a worry. You are bound to be concerned about the financial implications, how the damp is affecting you and your family along with the damage it is causing to your property. Worry leads to stress, which in turn can create even more health problems.
By dealing with the damp issue at an early stage you will save money. By eliminating mould you will avoid serious health issues and overall reduce your stress levels and feel secure that you are now comfy and dry.
Moisture in buildings is very often due to faulty or leaking gutters, downpipes and any external defects. These will all cause moisture ingress to the brickwork, in turn leading to internal dampness. This dampness will eventually lead to mould and condensation which will create an unhealthy living environment. Sometimes the consequential damage from these defects can be ground for an insurance claim, which we are experienced in negotiating.
Moisture in buildings and understanding ventilation
Typically when we carry out an internal inspection of a house that has moisture problems, we can quickly identify the cause by assessing the visual appearance of the internal surfaces together with external conditions. It is common that the windows do not have any trickle vents or they are simply always closed, or blocked with dust and cobwebs. The areas within a property that have the highest moisture levels will be the kitchen and bathrooms for obvious reasons. It's essential that they have the correct designed mechanical ventilation installed and in the right positions. The understanding of through ventilation is essential together with external wind pressure.
Learn How To Stop Dampness and Mould Before It Affects Your Health or Home: